Travel experience in Kutch – A Bike Trip to White Desert Gujarat
Have you ever been fascinated by deserts? I am, that's the reason I planned a 6 days trip around White Desert Kutch, the world's largest salt desert or white desert. It is spread across India and Pakistan.
Kutch, Being India's biggest district and one of the main attractions in Gujarat, India attracts a lot of travelers from across the globe. Especially during Rann Utsav.
The nearest city to visit the White Desert is Bhuj which is located in the centre of Kutch District of Gujarat.
Although we have reached Bhuj during Rann of Kutch Utsav, we have reserved our visit to the White Desert or Rann Utsav on Day 3 of our tour.
Here is my Kutch district travel experience:
Day 1: Reaching Bhuj by Train from Pune
As usual, the train already running an hour late and we reached Bhuj around 5:30 in the evening. I have booked my accommodation using Airbnb for a few days in advance. We took a taxi from Bhuj Station and reached our host Mr. Chirag Chauhan around 6:30 PM.
I have hired a bike from Wicked Ride for the trip which is to be picked before 6:30 PM.
All set to start our day 2 desert road trip early morning next day.
Day 2: Lakhpat, Narayan Sarovar, Koteshwar and Mata no Madh
Good Morning Bhuj, Early morning we have started our Journey toward Lakhpat (Around135 KM). Already in love with the mesmerizing view around the city, small water bodies, birds and zero traffic roads

Lakhpat – Ghost Town
A ghost town of Gujarat located on the western end of Kutch district, to be specific it is the western end of India on India – Pakistan border at the junction of Rann of Kutch and Kori Creek.

Lakhpat Fort
A 7km wall erected in 1819 by Jamadar Fateh Muhammed is still intact and gives an amazing view of White Desert.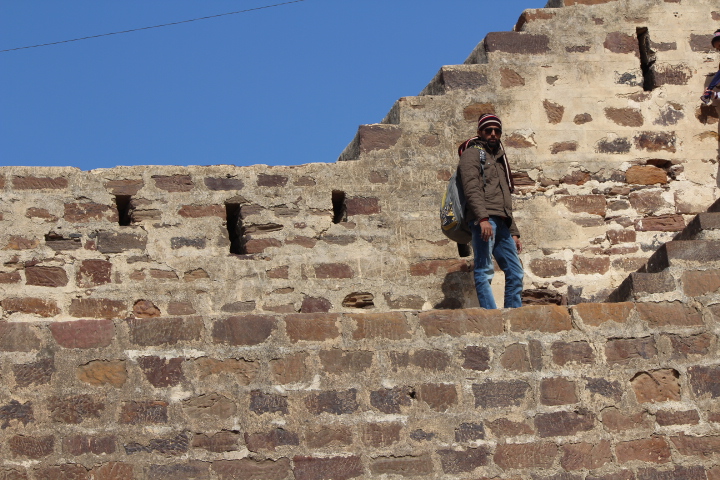 Lakhpat Gurudwara Sahib – Lakhpat
Declared protected by State Archaeological department and Won the UNESCO award for restoration after Earthquake. Lakhpat Gurudwara Sahib is a Sikh worship place and it is believed that Guru Nanak stayed over here on his way to Mecca for Haj.
Where to Stay in Lakhpat
If you are planning to stay overnight at Lakhpat then Narayan Sarovar (which is out next destination) is the recommended place to stay near Lakhpat.
The only place to stay overnight in Lakhpat is Gurudwara Sahib and Gujarat Tourism guesthouse and can be an option if you want to stay in Lakhpat itself.

Helpful tips for visiting Lakhpat, Gujarat:
Carry extra Jacket/woolen clothes if you are visiting during winters.
Sunscreen lotion and winter lotion both are recommended, it will be hot and dry during the day and very cold during nights.
Carry lots of water and food. You will not find any eateries or any stall here.
Make sure to carry scarf and shades even if you are traveling by car.
Narayan Sarovar
A place of the great importance for Hindu pilgrimage. Narayan Sarovar is about 120 Km from Bhuj and 33 Km from our last stop Lakhpat.

Narayan Sarovar is one of the 5 Lakes of Hinduism. It is believed that the lake is associated with the Draught of Puranic area when Lord Vishnu appeared to the sages and touching his toe the land creating this holy Lake.
Koteshwer Shiva Temple
Around 52 KM from Lakhpat and 125 KM from Bhuj, Koteshwer is an ancient Shiva Temple located near Kori Creek in the western part of Kutch Gujarat.
This is the west most point of India and road ends at the temple.

The sea view surrounding all the directions is amazing and it is a lifetime experience to view.

Don't forget to see the sunset from the temple top. You may find it the best sunset so far you have seen.

We departed from Koteshwer around 6:30 PM
Mata No Madh
We have skipped Mata no madh in the morning while our journey to Lakhpat purposefully as we have planned it for the evening. Mata No Madh is approx 60 KM from Koteshwer, So after traveling around an hour, we stop at this beautiful temple of Ashapura Mata.
Build in the 14th Century and still standing tall, Thousands of devotee visit temple during the auspicious days of Navratri.
Temple also offers Prasad to all the devotees which were really yummy and we were surprised by the cleanliness and management of the temple.
We departed from the temple and reached Bhuj around 10:15 PM.